Porchlight Music Theater's production of "In the Heights" is receiving high praises from theater critics throughout Chicago and has been extended through December 3rd.  The production which was directed and choreographed by Lincolnshire Academy of Dance's Artistic Director and Owner, Brenda Didier, with Co-Choreographer Chris Carter,  is described by the Sun Times as "an overwhelming experience on every level — in the brilliance and endearing warmth of its cast, the passion behind its storytelling, the piercing truth and mastery of its direction, the thrill of its explosive dancing, the magic of its mix of voices, the detail of its design and the instant connection it forges with its audience — that it is difficult to know where to begin when heaping praise on it all."
With music and lyrics written by Lin-Manuel Miranda,  the creator of the immensely successful and Tony award winning musical "Hamilton", "In the Heights" offers a glimpse into Washington Heights, a primarily Latino community located in Upper Manhattan and takes place during a time when the community is changing and becoming more gentrified.  Performink praises the cast as a whole stating that "The company has a true community feel in this production, which helps underscore the tension between Washington Heights as a nurturing and warm community while also being a place that some may need to leave in order to grow and develop."
"In the Heights" follows on the heels of Ms. Didier's last directorial project at Porchlight, "Dreamgirls" which also enjoyed a very successful run.  "Dreamgirls" was recently the recipient of 2016 Equity Jeff Awards for Production-Musical (for a midsize theatre), Principal Actress (Donica Lynn), Supporting Actor (Eric Lewis) and Costume Designer (Bill Morey) and received Jeff nominations for Director – Musical and Musical Direction.
If you missed Ms. Didier's "Dreamgirls" project, be sure to check out the heartfelt and energetic production of "In the Heights".  All performances are at Stage 773 located at 1225 West Belmont Avenue in Chicago.  Show times are Thursdays at 7:30pm, Fridays at 8pm, Saturdays at 4pm and 8pm, and Sundays at 2pm.  Tickets can be purchased at PorchlightMusicTheatre.org.  To contact Porchlight's Box Office, call 773-327-5252.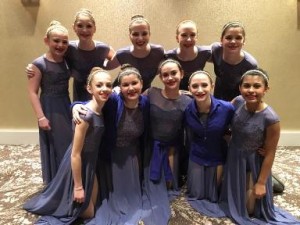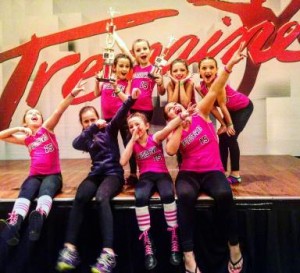 Lincolnshire Academy of Dance's Performance Company (LADPC) and Hip Hop Company finished off their competition season this weekend at Tremaine Dance Convention in Chicago on a high note!  After many classes and numerous rehearsals, the hard work of our company dancers, Company Manager and Director, Deborah Silvers, Company Director, Mary Tisa, and choreographers  and commitment of our LAD parents paid off.
The Hip Hop Company whose number "Lip Gloss" was choreographed and rehearsed by LAD Hip Hop instructor, Nicki Niemet, won First Place and overall highest score in the Junior Division.  Our Hip Hop Company members are Olivia and Isabel Bottcher, Tess Freemen, Eva Nikolic, Isabel Perez, Calleigh Schneider, Anett Vaysberg and Karina Dyakov (Apprentice).
Lincolnshire Academy of Dance Performance Company's Group numbers won 2nd Place for Musical Theater with "Footloose" choreographed by LAD instructor, Sasha Vargas, and for Lyrical with "Step by Step" choreographed by LAD instructor and Company Director, Mary Tisa.
The company's small group pieces also received awards.  The Tap trio's "Hollywood" dance choreographed by LAD instructor, Christie Kerr, won 3rd place, and the quartet's Lyrical piece, "The Promise" choreographed by Mary Tisa was also awarded 2nd place.  Although Tremain only gives award for 1st – 3rd place, we would be remiss if we didn't acknowledge that the Jazz duet "Move" choreographed by LAD instructor and Giordano Dance company member, Ashley Downs, received 4th place.  The Performance Company members are Agnes Chamberlain, Ryan Cheslock, Megan Embree, Kelly Fagel, Elli Freeman, Ashley Gordon, Raquel Hirsch, Ty Melnick, Sarah Rainis, and Ella Van Gerven.
The companies have also shared their talents for good causes, including a performance at Victory Centre of Vernon Hills, an assisted living facility and an event for EDN!C (Everybody Dance Now! Chicago).  According to its website everybodydancenow.org, "Everybody Dance Now! is a youth-run nonprofit organization that provides free, weekly dance programming to young people throughout the country who would otherwise not have access to such opportunities."
Look for more performances by the Lincolnshire Academy of Dance Performance Company and Hip Hop Company in our recitals June 11th and 12th at the Stevenson High School Auditorium and in the upcoming months throughout our local community.
Don't miss your second chance to see Porchlight Music Theater's Ain't Misbehavin' directed and choreographed by Lincolnshire Academy of Dance Owner and Artistic Director, Brenda Didier. "Set in the jazz age when nightspots like the Cotton Club and the Savoy Ballroom were the playgrounds of high society, this tribute to the Harlem Renaissance is an evening of rowdy, toe-tappin', and humorous songs that capture the mood of an era…" according to Porchlight's website.
The Fats Waller revue received rave reviews and was winner of the 2014 Joseph Jefferson Award for Best Production and Best Direction the first time around. The "reboot" being performed at Chicago's Stage 773 continues to please audiences with its stellar, original five member cast and exceptional musicians, including the conductor and pianist from the first run, Austin Cook who has impressively memorized the music from the show from beginning to end! Performances run Thursday through Sunday until December 20th at Stage 773, 1225 W. Belmont.
If you are looking to get into the mood of the holiday season, check out The Christmas Schooner which has become a Chicago tradition since it was first performed at the Bailiwick Repertory Theater where it had a 12 year run. The show is now being performed at its new home, the Mercury Theater with a full orchestra, and is described as a "heart-warming story of the first Christmas tree ship and the family who risked their lives to fill Chicago with the Christmas spirit". The production was choreographed by Miss Didier who is in her 15th year of being a part of the creative team. Show times are Wednesday through Sunday from now until December 27th at Mercury Theater located at 3745 N Southport Avenue.
Lincolnshire Academy of Dance (LAD) takes great pride in the fact that all of our instructors have professions in what they are teaching, and our accompanists are professional musicians.   We are excited that they are active in their dance, theater and musical professions, and each month we will be sharing special projects or shows they are working on.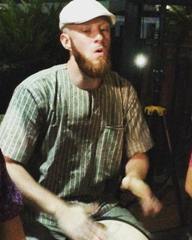 For the past month, Chris Paquette who accompanies Modern and Hip Hop classes with LAD's other drummer, Nick Ugo, has been doing an artist residency program in Cape Three Points, Ghana in the southernmost part of Africa.
As part of his residency, Chris is working with students ages 16-21 at the Trinity Yards School, a school that provides 20 junior high graduates a fee-free Bridge Program concentrating on literacy, numeracy and an introduction to different trades.  In addition to teaching drumming, Chris is working on a recording project with the students.  They are writing a song about the school and eventually will create a music video to go along with the song.
During his time in Ghana, Chris has become acquainted with some local musicians and has had the opportunity to sit in with a couple of bands in Accra.  He also met up with a Hip Hop MC and plans to do some recording with him while he is there.
Chris says that he is "learning a ton" from his travels and getting to know the people in Africa.  He describes Africa as "beautiful" and the area where he is staying as "paradise".
In addition to teaching all levels of Tap classes two nights a week at LAD, Christie Kerr is an adjunct professor at Columbia College where she teaches in the Musical Theater Department.   Christie just finished up tech rehearsals for the "The Drowsy Chaperone" which she choreographed.  The Drowsy Chaperone is "An homage to American musicals of the Jazz Age and the effect they had on one adoring fan" and is being performed at the Getz Theatre from October 28th-November 7th.  Please click on the Performing Arts Centers under News & Events on the Columbia College website for more information on dates and show times.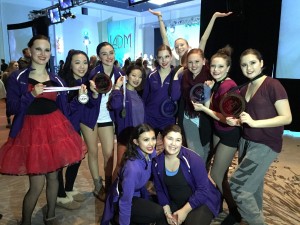 Congratulations to our Expressions Dance Company members for an outstanding competition season!  Our Senior Company members are Allison Chen, Sophia Connolly, Morgan Cutler, Rachel McCoy and Sasha Pinchuk, our Intermediate Company members are Caroline Baldan, Ashley Gordon and Jessica Wu, and our Junior Company members are Jenny Fairman, Angelina Silvestri, Zoe Warren, Katherine Yu and Tyna Melnick (Apprentice).  All of the companies attended three competitions – Jump, Tremaine and LA Dance Magic and received a number of awards at each.  We are very proud of their hard work and dedication and would like to acknowledge their accomplishments and awards.
Thank you to the Company Director/Intermediate Co. Director, Deborah Silvers, and her team of directors and choreographers – Mary Tisa (Senior Co. Director), Kristy White (Junior Co. Director), Christie Kerr (choreographer), Ashley Downs (choreographer).  We are fortunate to have such a talented and committed group of teachers to support and enrich the lives of our dancers.  We'd also like to send out a special "shout out" to the parents of the company members who are there not only to support the endeavors of their daughters and fellow company members, but also for their input and investment of time and energy into our vision and goals for the Lincolnshire Academy of Dance Expressions Companies.
Auditions for the 2015/2016 Dance Season will be held in late May or beginning of June.  Please check back on the Home page of our website at LincolnshireAcademyofDance.com for audition dates and times.

| | | |
| --- | --- | --- |
| 2014-2015 Company Awards |   |   |
| Jump Convention: | Tremaine Convention: | La Dance Magic Convention: |
| Sr Ballet- High Silver | Sr Ballet- 3rd Place | Sr. Ballet- Gold  1st Place |
| Sr Jazz- High Silver | Sr Jazz- 3rd Place | Sr. Jazz- Gold  3rd Place |
| Sr Contemporary- Gold | Int. Jazz- 1st Place | Sr. Contemporary- High Gold |
| Int. Jazz- Gold | Int. Lyrical- 1st Place | Int. Jazz- High Gold |
| Int. Lyrical- High Silver | Jr. Musical Theatre- 2nd Place | Int. Lyrical- High Gold |
| Jr. Contemporary- High Silver | Rachel and Sasha's Duet- 2nd Place | Jr. Contemporary- Gold |
| Jr. Musical Theatre- High Silver | Tap- 3rd Place | Jr. Musical Theatre- Gold  3rd Place |
| Morgan's Solo- Gold |   | Morgan's Solo- High Gold |
| Sophia's Solo- Gold | | Sophia's Solo- High Gold |
| Rachel and Sasha's Duet: High Silver | | Rachel and Sasha's Duet- High Gold  3rd Place |
| Tap: High Silver | | Tap- High Gold  1st Place |
If you are like me, you still haven't seen most of the Oscar nominated films of 2013.  While you are making your list of movies to rent, be sure to add "Dreams" (2013) to your list.  Featuring our very own Marchello Lee who teaches Hip Hop classes here at the Lincolnshire Academy of Dance, "Dreams" was released on DVD by Lionsgate Home Entertainment on January 28th, 2014.  The film is set in inner city Chicago and tells the story of four people – a dancer, a singer, an ex-boxer, and a rapper, each trying to achieve their dream despite the obstacles of their situation and their past. 
Marchello was hand selected to play the aspiring dancer, Quentin, by Joel Kapity who Marchello met while attending Columbia College in Chicago.  Lee recently shared in an interview for Mr. Refined that "Joel, the Executive Director/Producer fought and insisted that I was the only person for the role."  Marchello is joined by an impressive cast of actors, including Lou Myers best known for the movie "Tin Cup" and several of 1990's sitcom fame, including Geoffrey Owens of the "Bill Cosby show", Tommy Ford of "Martin" and Terri Vaughn of "The Steve Harvey Show".
Although Marchello has been dancing for a long time, he received his first break as an actor in a Cheerios commercial when he was attending Mt. Carmel High School where he was first introduced to theater.   It was then that he performed in his first musical, Joseph and the Technicolor Dream Coat, and began his training in acting, singing and dance.  Marchello continues to pursue his acting career with Dreams On Screen Productions while being an integral part of what keeps students coming back to dance class here at Lincolnshire Academy of Dance.
Brenda Didier, Artistic Director and Owner of the Lincolnshire Academy of Dance, has done it again – The Porchlight Music Theater's production of Fat Waller's musical revue "Ain't Misbehavin'" she directed and choreographed is receiving rave reviews.  Theater critic Chris Jones of the Chicago Tribune gave the production three stars stating that "There is something about this production that captures the exuberant, unstinting spirit of Waller and his era better than any other "Ain't Misbehavin'" I've seen."   Hedy Weis of the Sun Times calls the revue a "rousing triumph. 
Aligned with an immensely talented team, including music director Jaret Landon, a five piece band led by onstage actor/pianist Austin Cook, and an exceedingly capable ensemble who critics agree more than fill the large shoes of the actors, like Nell Carter, who made their names in these roles, Brenda takes the audience right back to the Harlem Renaissance and completely immerses them as if they were a guest at an after-hours rent party.  Audiences can't help but be swept up by the infectious energy and enthusiasm of this cast. 
Performances are selling out.  Make sure you don't miss out and purchase your tickets today!  Performances are Fridays at 8:00 p.m., Saturdays at 4:00 p.m. and 8:00 p.m. and Sundays at 2:00 p.m.  and 6:00 p.m. at Stage 773 at Porchlight located at 1225 West Belmont Avenue.
Get all the latest information, photos and updates on our Facebook page.