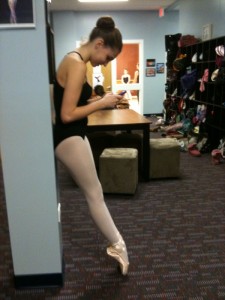 We pride ourselves in recognizing each student's individual strengths and guiding them to their full potential as an athlete and artist with positive encouragement.
We are very proud of our scholarship program founded in 1999.
Most of our students place into Stevenson High School's dance companies- Repertory, Melange, and Concert Dance; as well as freshman, Junior Varsity, Varsity Poms; and the musical theatre and drama programs.
Our annual, end-of-year performances are professionally produced with high-quality sound, lighting, and age-appropriate costumes, music and choreography.
Our studios are equipped with sprung dance floors with marley surfaces, full-length mirrors,  ballet barres and viewing windows so parents can observe classes without disrupting learning.
Since 2002, our  Award Winning Dance Company-  LAD Ensemble (3rd grade and up)- has created an outlet for our students to perform, compete and experience dance outside of our studios. Auditions are held annually and are posted on our website & face book pages.
We have 2 professional percussionists for our modern classes,  hip hop classes and a professional pianist for most ballet classes.
Our students have completed summer programs with American Ballet Theatre, The Joffrey Ballet, Chicago Ballet, Ballet Met, Milwaukee Ballet, Point Park University, the Universities of Michigan and Indiana, River North Dance Chicago, Ballet Austin and the prestigious Interlochen Summer Intensives.
Our signature piece, St. Teresa, placed in the top 10 in Dance Chicago's 2009 Dance Festival and our students were featured in the Dance Studios of Chicago Calendar's Cover and June and September months. We were also featured in the national dance magazine Dance Studio Life's January 2012 issue featuring live music in the classrooms alongside prestigious university and conservatory programs.
LAD alumni have been accepted into prestigious university dance and musical theatre programs. Many have received talent scholarships.
LAD alumni are dancing professionally in dance companies, on Broadway and in Broadway National Tours.